Floods Kill more than 600 and Over 1 million people have been forced from their homes.
Flooding has flooded highways and farms, slowing the flow of gasoline and food imports. Since the cost of living in Nigeria has already increased due to a price increase, authorities are working to clear the bottleneck.
As the effects of Nigeria's worst floods in ten years become apparent, masses of food and fuel stretch for miles at Dantata Bridge in the coastal Kogi State.
The bridge is a link that enables essentials to travel back and forth between northern and southern Nigeria, including the capital Abuja.
However, Kogi State has experienced catastrophic flooding for weeks that have destroyed agriculture and damaged access routes, including Dantata Bridge.
Bashiru Usman, an Abuja resident, claims that Abuja is seriously feeling the impact.
Usman, a gasoline dealer, said, "We are having trouble getting the fuel.
"There is no gasoline, as the line demonstrates. There is only one gas station that sells petrol in the entire region."
In 33 of Nigeria's 36 states, according to the authorities, more than 2 million people have been impacted.
They attribute the flooding to the torrential downpours that began in July and the water discharge from the Lagdo Dam in Cameroon.
However, according to experts, Nigeria's inadequate urban development strategy made things worse.
In several cases, villages were entirely drowned by floodwaters that reached the rooftops.
About a month ago, Halima Sani and her eight kids arrived in this improvised camp in Lokoja, the administrative center of Kogi State. She claims that a big issue is food.
"We were farmers before the flood, my husband and I. We used to eat the food from our farm, "She spoke. "When the water hit and wiped out everything, we were just beginning to harvest.
Our house is submerged, and not a single crop could be harvested. We came here to seek shelter as a result. I have a hard time finding food to eat with my kids."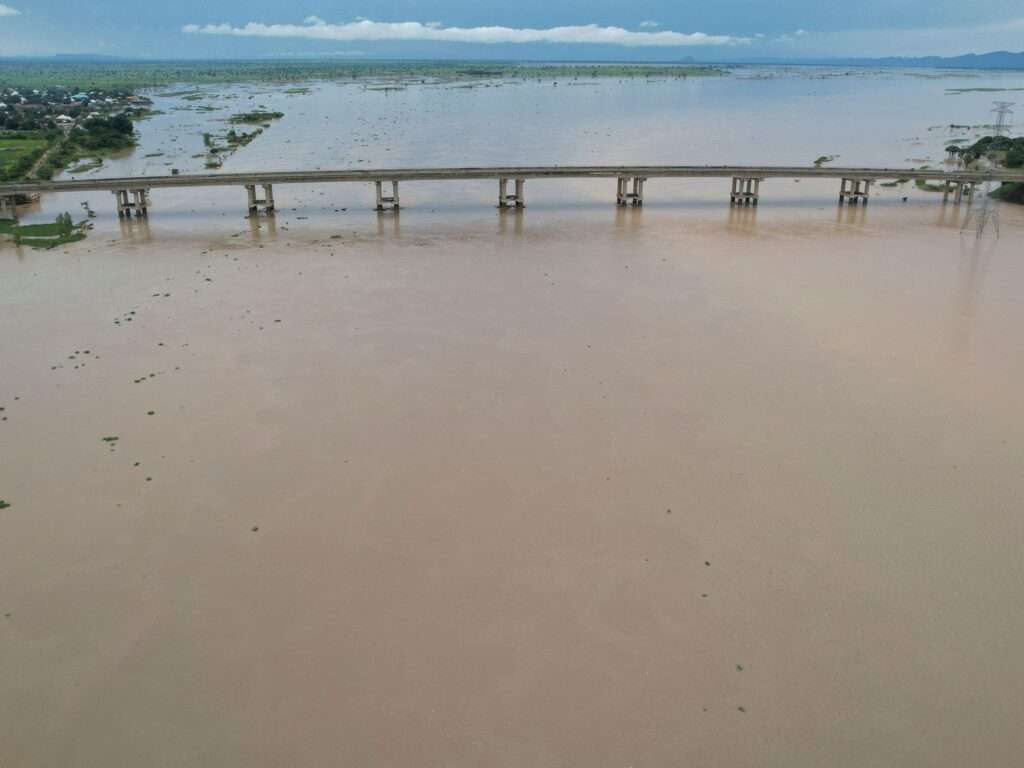 Several Nigerian states have been devastated by extensive floods, which has forced over a million people to flee their homes.
Up to 12 metric tons of grain are being transported to the most affected districts this week, according to President Muhammadu Buhari, who also ordered emergency responders to step up their operations to lessen the impact of the floods.
However, camp authorities say they are running out of places to house fresh arrivals and are unsure when the assistance will arrive.
Camp director Aliyu Adoga stated, "We are still requesting the federal authorities to enter where these people dwell."
It will be simple for them if they can move to another location where they can get new housing because this happens every year.
According to economic experts, the flooding will cause food prices to increase by up to 25% by year's end. They add that the pattern might persist in the upcoming year.
The Lagdo Dam's periodic opening will be discussed in November between Nigerian and Cameroonian officials.
The United Nations Climate Change Conference, or the COP27 is scheduled to take place in Egypt in November and will put a special emphasis on climate change mitigation.
Floods Kill More Than 600 and numerous thousands of displaced people will look for food, shelter, and clean water in this area at that time.
PAY ATTENTION: Share your outstanding story with our editors! Please reach us at info@houseofaproko.com